My work is inspired by the character of Julie Wolfthorn - a painter and graphic artist, mainly the author of portraits. She was born in 1864 in Thorn / Toruń (town in Poland, belonged to Germany before the World War II) as Julia Wolf and spent her childhood there. In 1880 she moved in Berlin, where she studied fine arts, as well as actively worked for women's emancipation and equal access to education for women wishing to become artists. In 1904, together with over 200 other female artists, she signed a petition to the director of the Prussian Academy of Arts in Berlin, demanding women artists to be allowed to join to study at the academy. The director ultimatively rejected the petition. In 1942 she was deported to the concentrazion camp in Terezin, where she died two years later. She remained forgotten for many years, both in Berlin where she was active as an artist, and in Toruń - the place of her birth.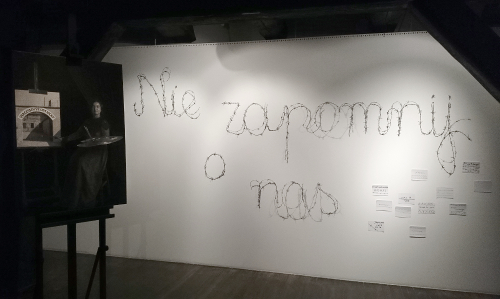 Julie Wolfthorn is a person on the border of cultures, born in the city, where German, Polish and Jewish culture used to coexist. Julie Wolfthorn decision to modify her family name to which she added the name of the city of her origin may suggest she was a local patriot. My attention was also drawn by an interesting coincidence - THORN, the German name of the city, as well as Polish - TORUŃ, comes from the word thorn (German: Dorn). The thorn has many symbolic meanings in culture, which can be also visible in the tragic fate of Julie Wolfthorn as well as in a broader context to provoke questions about our condition, identity, our rules and fears 'here and now'.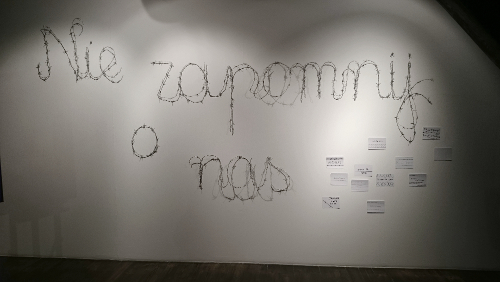 My work consists of a photo which is a remake of an archival photograph of Julie Wolfthorn sitting in front of an easel and painting the picture. The inscription on her painting "Vergessen Sie uns nicht" is a quote from her letter, which she sent from the concentration camp on behalf of her and her sister to their friend. As a reference to this quote, I formed a barbed wire in a shape of the inscription "Do not forget us". This sentence was repeated - handwritten by my artists friends in various languages on postcards in which the motif of barbed wire also appeared. The postcards completed the installation consisted of the photo placed on the easel and a large size inscription made of barbed wire.