Stanislawa Przybyszewska (1901-1935) is perceived an unusual figure in Polish literature by some. By others, if at all is is recognized only as the morphine addicted illegitimate daughter of Stanislaw Przybyszewski and painter Aniela Pająkówna. As a child Przybyszewska travelled with her mother in Europe and also received a good education abroad. Orphaned at the age of eleven, Stanisława Przybyszewska remained, as she wrote herself: "dumbfounded [...] at the tail end of an idyllic era, in which the deluge of fire and bloody mud had soon to inundate and bury forever." The world in which she felt safe and loved despite the uncomfortable status of an illegitimate child, closed forever.

Przybyszewska, after her nomadic life in different cities, spent the last 10 years before her death living in deepening poverty in a barrack at the former Polish High School in Gdansk, where she wrote her last and most famous piece The Danton Case. Her creative passion was accompanied by progressive addiction to morphine, which led her to a loss of contact with the outside world, moving her increasingly into the world of her imagination. It also caused the degradation and destruction of her body and consequently her premature death. The extraordinary creative passion and determination of the writer when faced with setbacks in the reception of her works, led her to self-destruction.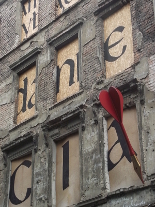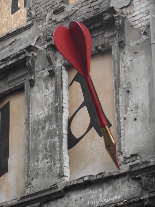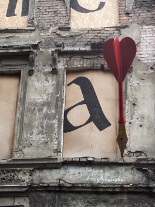 The installation was set up on the upper part of the facade of the building. The dominant element is a black inscription made by a stencil technique on the OSB formerly installed in the windows. The inscription in Polish which means "I reserve complete possession of my life" is a quote from Stanislawa Przybszewska's letter to her aunt (her mother's sister) - Helena Barlińska, in which Przybyszewska notifies her relative about her intention to devote herself completely to her passion – writing.

The quote "I reserve the complete possession of my life," sounds very decisive, especially in the context of heated debate on women's rights in Poland today. The quote from Przybyszewska can be interpreted in a new political and social context and take on a new significance, while retaining the original meaning emphasizing one's own right to decide about oneself and one's own subjectivity. The name of the font used in the inscription is 'Robespierre' referring through it to the leader of the French Revolution, who was the subject of Przybyszewska's reflections and the main character of her pieces.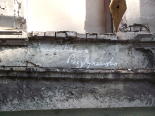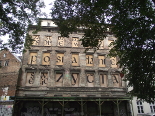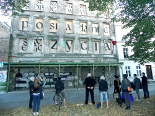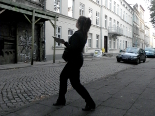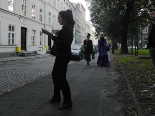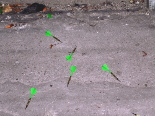 Excerpts from Przybyszewska's notes written duing the daily work on her last and most famous drama The Danton Case, were placed on the remains of plaster. A fountainpen nib - a popular symbol of writers of the time, was combined together with a dart, an object designed to hit a target, but which can also be dangerous. The nib-dart object is a reference to creative passion that can inspire but may also injure. The object also refers to Stanislawa Przybyszewska's premature death, directly caused by drug addiction, which progressed in parallel with the writer's setbacks in her efforts to stage her dramas.

At the opening of the installation, a performance took place. During the performance I read Stanislawa Przybyszewska's letter adressed to Leon Schiller. I also threw darts toward the installation. This gesture symbolized an attempt to achieve a goal. The letter expressed the annoyance of the young writer who was waiting too long for a reply to her question about the possibility of staging her drama. The gesture of throwing darts to a distant target also relates to the laborious, often hopeless struggle of young artists with the reality of the art world.



The project was supported by City of Gdańsk /Cultural Scholarship of Gdańsk