The inspiration for my project was a female-artist (a sculptor) who lived in Vienna in the turn of 19th and 20th century. Her name was Teresa Ries. She was Russian of Jewish origin, who moved to Vienna after she was expelled from the Academy of Fine Arts in Moscow, because she challenged the authority of her professor. Teresa Ries (despite the fact that she was Jewish and a woman) became an appreciated artist in Vienna. After 1938 her studio was 'aryanized' and she had to escape to Switzerland. Vienna quickly forgot about her, but traces of her can still be found in the city. Her sculptures are in The Vienna Museum and in public spaces in Vienna.

Although officially Terera Ries as a woman was not allowed to study at the Viennese Academy of Fine Arts, as Edmund von Hellmer's private student she was able to use the ateliers and models posing there. At the age of 22 she completed a sculpture in marble entitled The Witch, which depicts a vigorous witch preparing herself before Walpurgis night. The naked female figure with dishevelled hair cuts her toenails with big scissors while defiantly looking at the viewer and biting her lips in both a malicious and lascivious smile.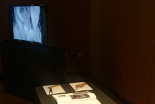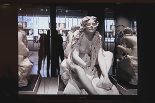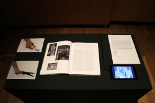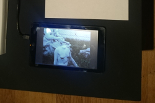 I searched for traces of Teresa Ries as a representative of Austrian culture and also as an immigrant. I connected her story with contemporary discourses, such as immigration, globalization, national and ethnic origin, feminism. I am interested to ask questions about what we cultivate in our memory as a society, and what we quickly and easily forget.

So far I have completed a video-work based on the video documentation of "the Witch" temporarily exhibited at the Jewish Museum in Vienna. I also collected articles and video and photographic materials concerning the project. Some of them were shown next to the video displayed at the exhibition at Concordiaplatz 2 in Vienna.

A complementary project to The Lost Element is a video installation based on interviews with contemporary artists - immigrants who moved to Vienna in search of better future, artistically and socially.